HEARTLAND CHARTER SERVICES
In the greater Kansas City area, or across the USA, Heartland can get you there safely in style & comfort

Bus charters is what we do. It's our passion!  We started Heartland Trailways to help people of all ages explore this grand country!  From a short, local bus trip to a long cross-country motor coach journey, we do it all.  Come ride with us!  For instance, you can charter a Heartland Trailways motor coach for your group to a tour destination such as Branson, Missouri and Table Rock Lake where you will be able to experience amazing scenery with numerous photographic opportunities.
When you chose Heartland Trailways for your charter bus coach needs, you and your organization will enjoy the camaraderie of traveling together in the safest, cleanest, and most up-to-date technologically advanced charter coaches anywhere!  For those who need to work on the go, or just want to get lost in the internet, our motor coaches and buses are equipped with Wi-Fi and electrical outlets so you can work or play while we take care of the driving.  If relaxing and watching a movie or reading a book is on your agenda you will enjoy our roomy, comfortable, reclining seats each equipped with their very own reading light.  Because we make keeping up with technology a priority, you are able to watch DVDs, play music, or share movies from your tablet on large, flat-screen monitors!  Whatever your preference, you will arrive at your planned destination rested, and ready to go!
Since 1989 Heartland Trailways bus service has proudly served schools, churches, business, military personnel, families, friends, and many other groups.  Our charter bus coach service can help you get the most out of just about any travel occasion. Below are some of the many types of charters we offer: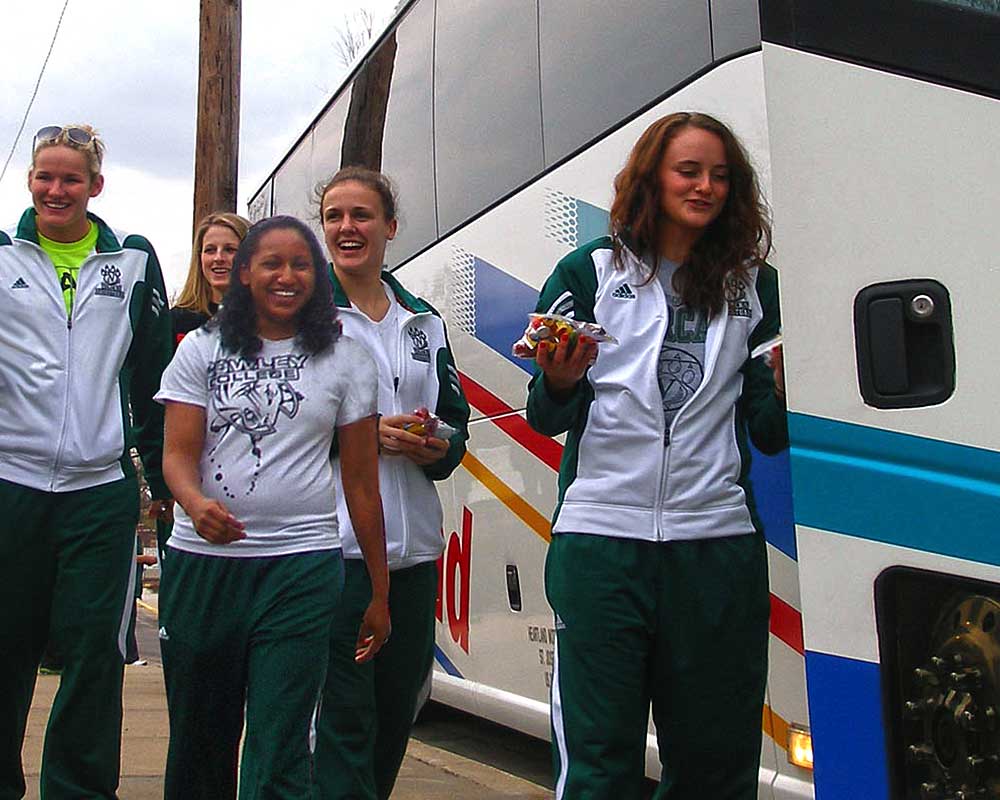 SCHOOL ATHLETICS
Athletes and fans can count on Heartland Trailways to provide safe, reliable, and affordable transportation to every game. Our team of professionals has extensive experience providing charter bus services to professional, college, high school, and junior-level athletic events. Reserve a charter bus today and ensure your team arrives safely and on time—rested and ready to compete!

MILITARY TRANSPORT

When choosing the right charter bus company to transport our best and bravest of the United States Military – one must consider the highest and strictest transportation standards.  We are Department of Defense (D.O.D.) approved to transport all such troops safely and securely!  To obtain and maintain such approval, Heartland Trailways and our charter buses are put through extensive inspections and audits on a regular basis as well as carry liability insurance in the amount of many millions per occurrence. Heartland's safety record is second to none and we maintain the highest ratings.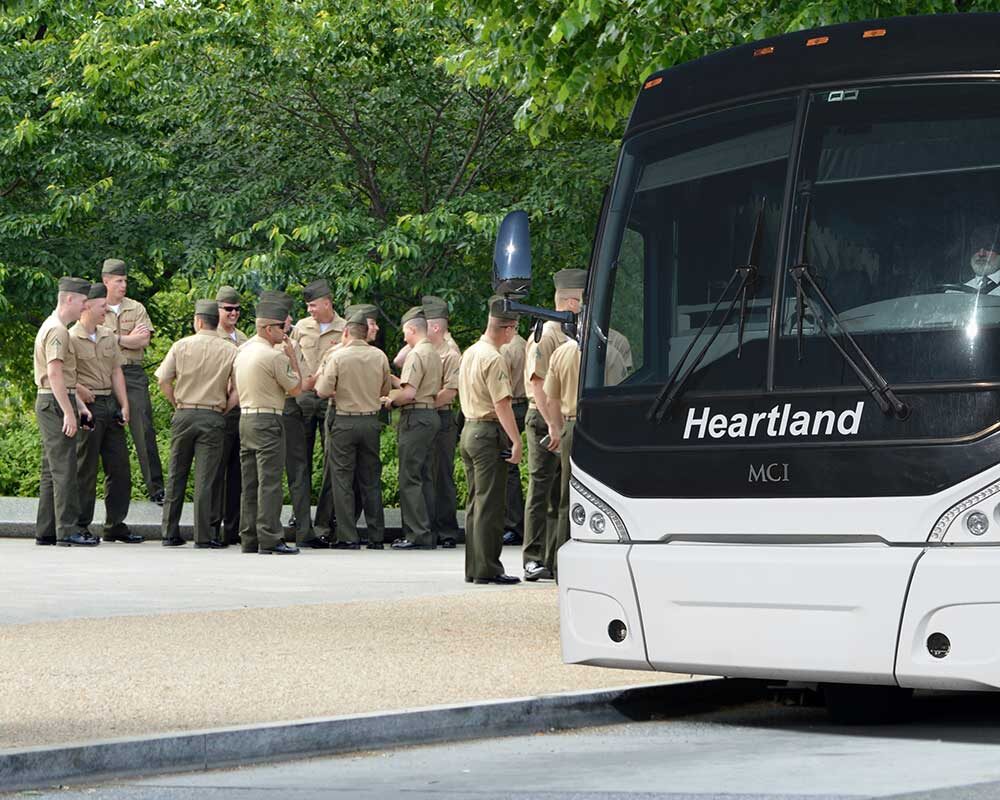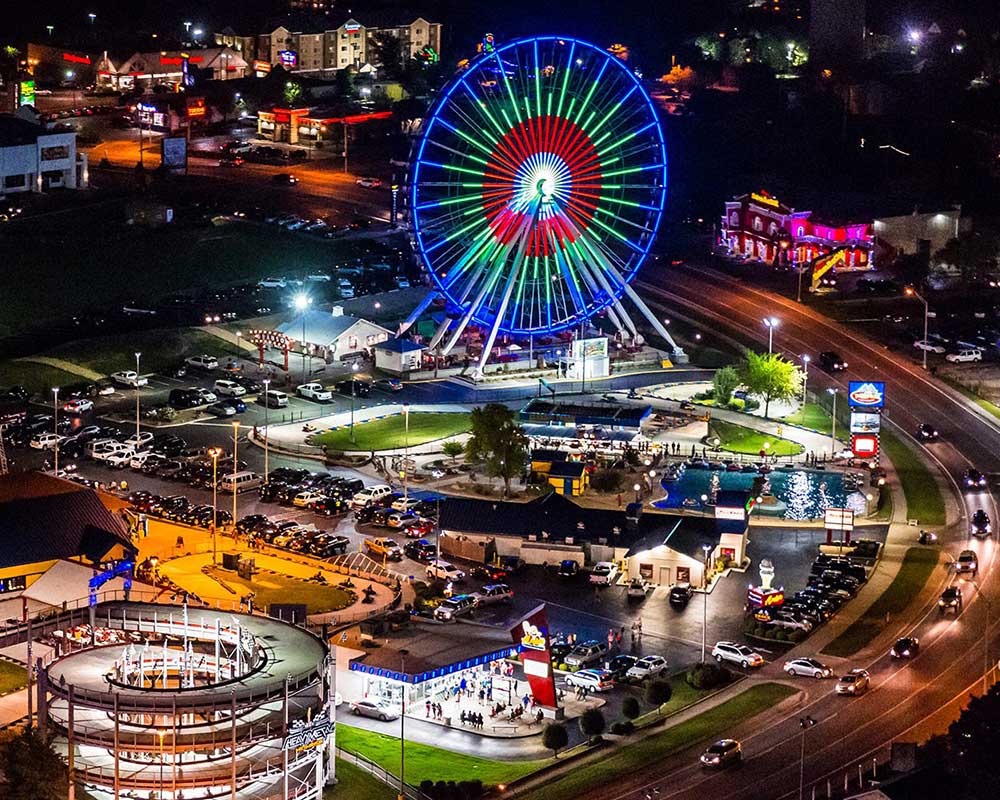 TOUR COMPANIES

Heartland partners with a number of leading tour companies to provide safe, comfortable transportation to destinations across the USA. So whether you're visiting iconic destinations closer to home, like Branson, or exploring the scenic west coast, metropolitan east coast, or anything in between, Heartland can take you there safely in style and comfort.
SCHOOL EVENTS

When it is time for your school or college group to hit the road, let Heartland Trailways help you plan safe, reliable, and affordable transportation. We have experience providing group charter bus services for band trips, theater groups, prom, graduation, field trips, or whatever you can dream up.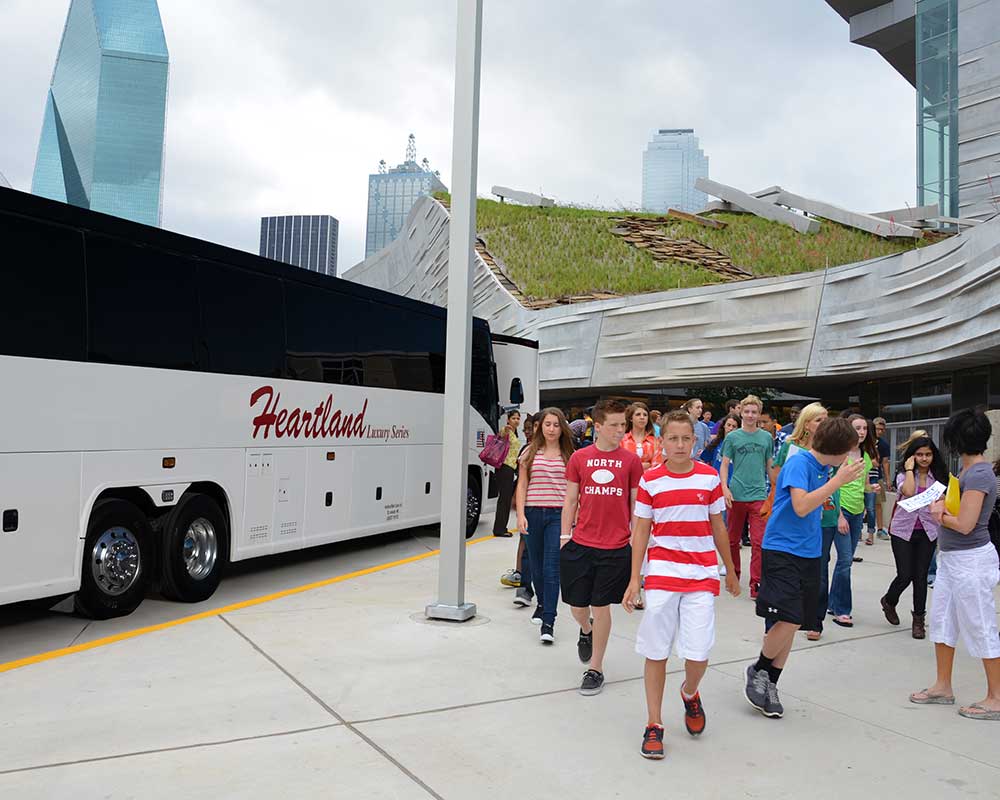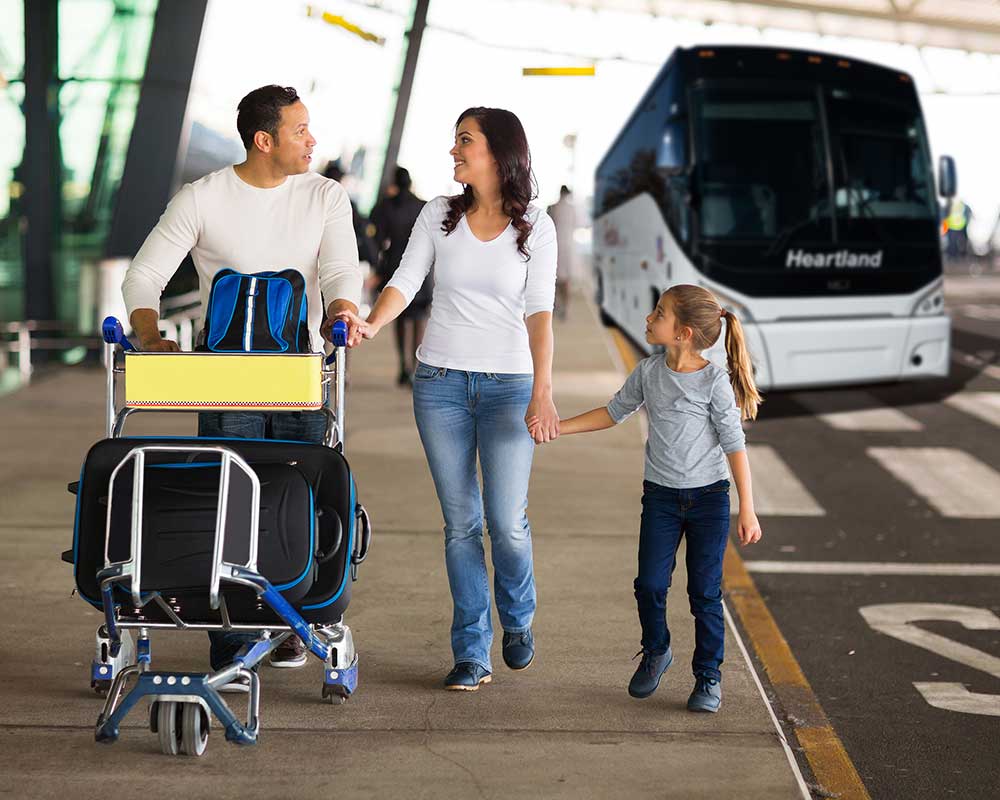 AIRPORT/LOCAL SHUTTLE

Whether you're getting ready for personal travel or organizing travel for others, there's plenty to manage without having to think about transportation. Heartland will manage airport transportation for the whole family, your entire executive team, or a honeymoon couple, safely and with plenty of time to get checked in, grab a bite, and board your flight. For all your airport transfer needs, count on Heartland so you can relax and enjoy your trip.
WEDDINGS/CONCERTS

Whether you need reliable transport to one of the most important days of your life, or just want to experience your favorite band with some close friends, the last thing you need to think about is transportation. Let Heartland provide reliable, friendly transportation services throughout your special day. Heartland can pick you up and transport you to your destination safely and on time, and at the end of your special day deliver you back home or to the hotel of your choice. Let Heartland handle the travel so you can focus on family & friends on your special day.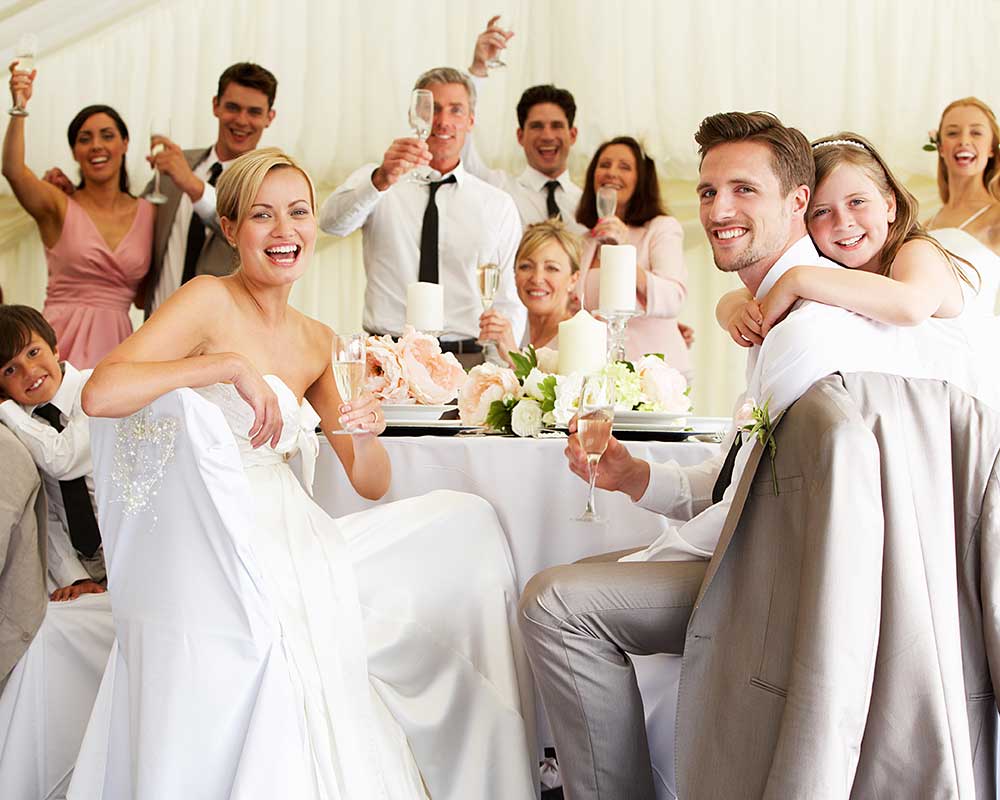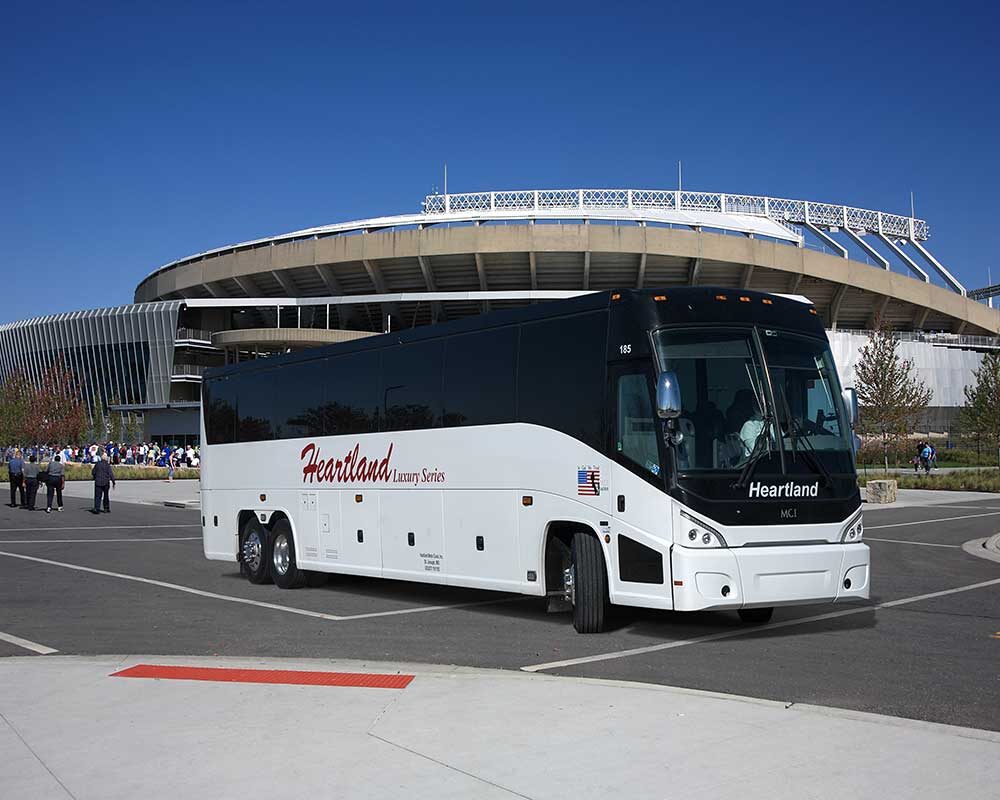 SPORTING EVENTS

WE LOVE OUR HOMETOWN TEAMS! Heartland Trailways is ready to charter you and your group anywhere in the United States. Reserve one of our charter buses to transport your group in comfort and style. We pride ourselves on making your charter bus trip fun, convenient, and economical. So whether you're supporting your team locally or cheering them on the road, Heartland offers a variety of charter bus services to ensure your group arrive at your sporting event rested and ready cheer the home team to victory!
CHURCH TRIPS

Church and youth groups looking for safe and reliable charter bus transportation to bring a group to the park for a picnic, across the county to work on volunteer projects, youth camps and more can count on our experts to assist with all transportation planning needs. Our bus charters can accommodate most groups and any special requests you may require.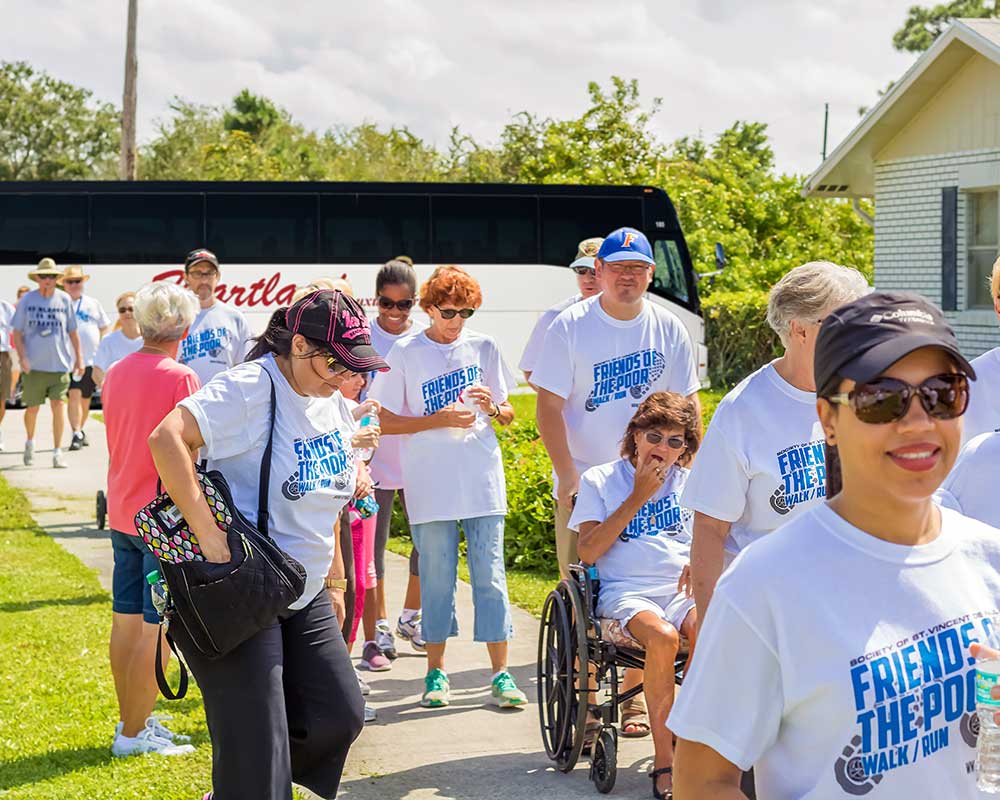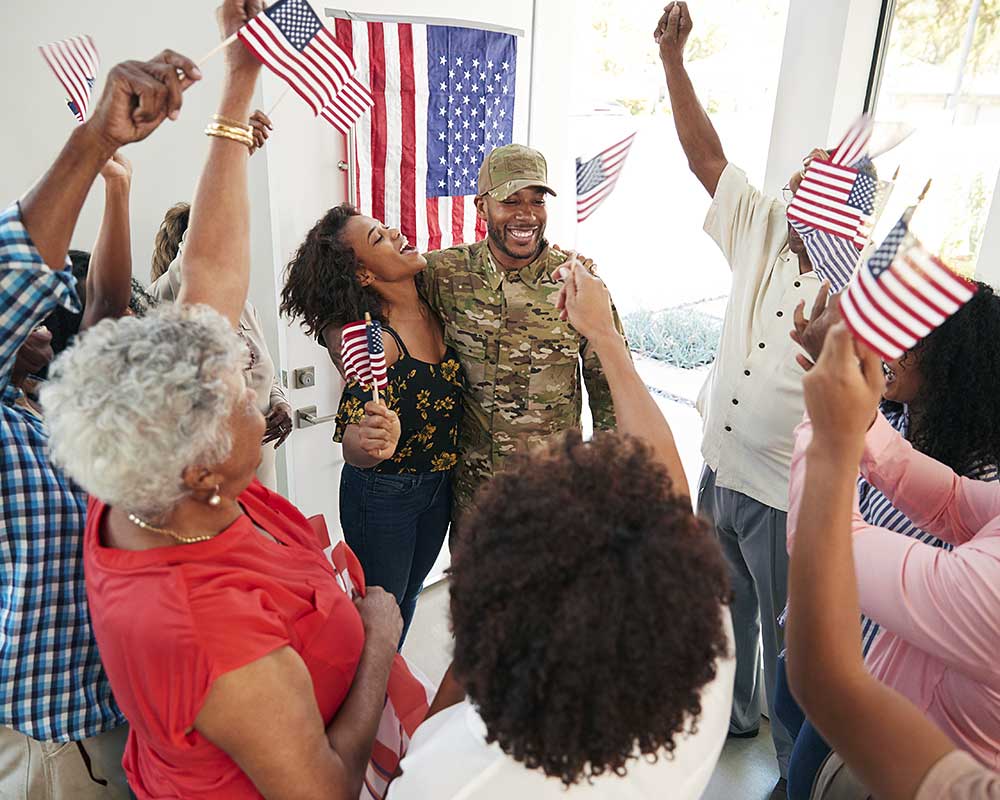 FAMILY REUNIONS

You've planned this special reunion for months. You've chosen the venues and locations to visit. Make sure everyone arrives safely and together by chartering transportation with Heartland Trailways. We can ease your travel worries so you can focus on having fun and catching up on all the latest happenings in your family. Whether it's transporting your family to different venues, hotels, or back and forth from the airport, Heartland can help ensure your special family reunion is a success!
In addition, we also offer these charter services and more!
We can create a customized charter package for any trip you desire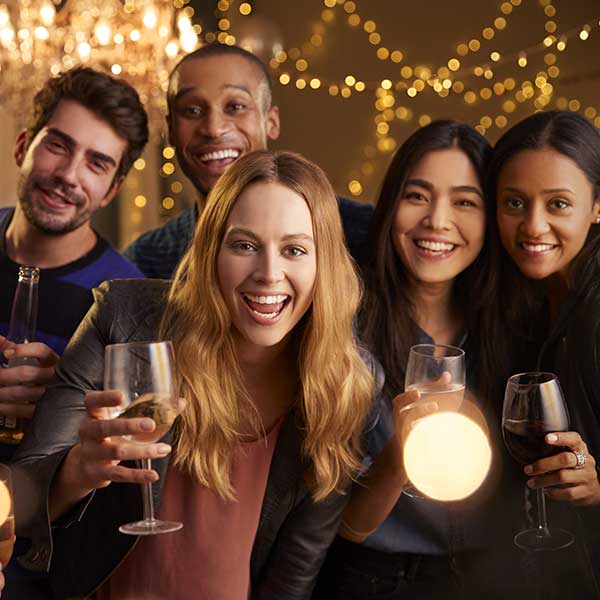 ANNIVERSARIES
BIRTHDAY PARTIES
BOARD MEETINGS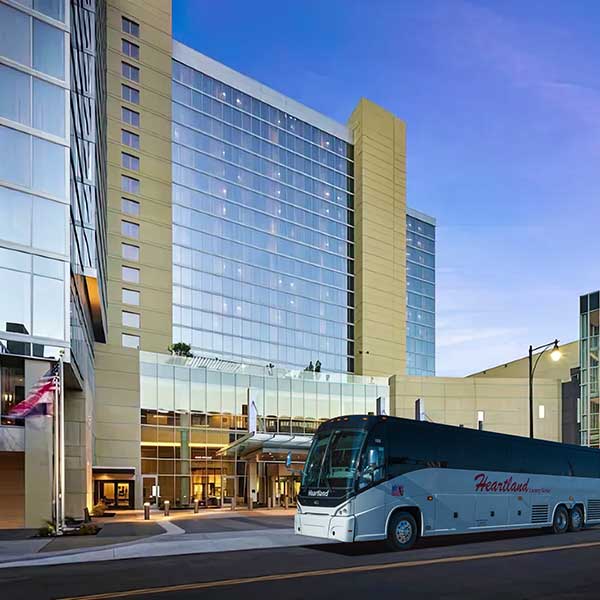 BUSINESS MEETINGS
CASINO TRIPS
CONVENTIONS
GOLF OUTINGS
LUXURY TOURS
REHEARSAL DINNERS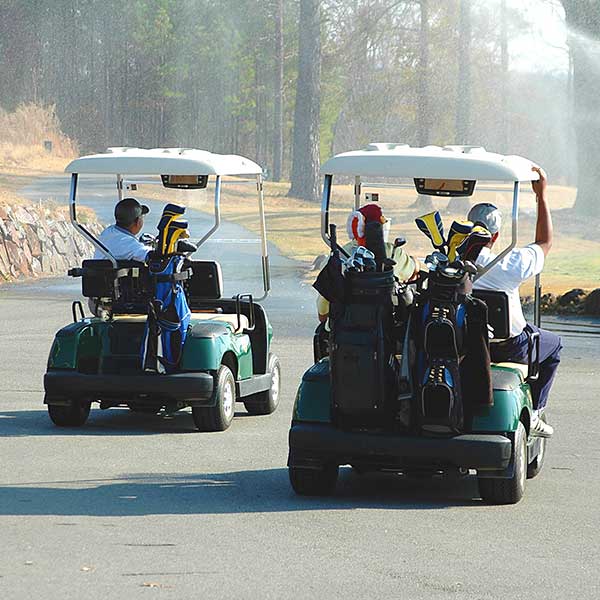 RETIREMENT PARTIES
SENIOR OUTINGS
SHOPPING TRIPS